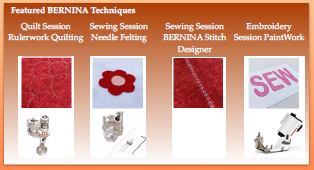 Click HERE to learn more

Charity Sit and Sew
As many of you know, in the past, we had been doing charity sewing for

the Angel Gowns program. Some of you have asked if we are going to
continue with the Angel Gown program. Nancy Pederson, the Angel Gown
coordinator, has been suffering from serious health issues. She did an
amazing job of organizing the program each month, but at this point is
unable to continue. Join us in praying for her recovery.
We have found another organization, Ryan's Case for Smiles, that we have
decided to support this quarter. Ryan's Case for Smiles helps children and
families cope with the traumatic stress of illness and injury. We invite you to
join us in sewing bright, colorful pillowcases for children in the hospital
with cancer. We will be supplying pillowcase kits. You may also choose to
donate fabric from your stash. We will spend the day sewing together.

We have two days chosen this quarter.
Tuesdays, January 28 and March 31, 10:00 - 3:00.
We will keep you posted on future charity sewing opportunities.
CLICK HERE
to learn more
CLICK HERE to join us